Precision tools from Nogamigiken
Stamping tools
Dedicated hand-operated punch for thin film and foil

HANDHELD PUNCH

Dedicated desk-top punch for thin film and foil

HAND PRESS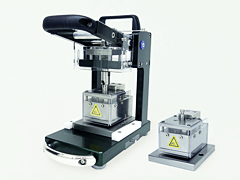 It is usable to punch a thin film and metallic foil without burrs or contamination.
Hand press itself is portable and is suitable for using in glove box.
Stamping die covers the larger sizes which are not supported by Handheld Punch.
Dedicated punch for DBS testing

BARINASU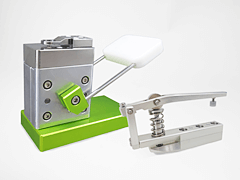 gBARINASU h, a hand-operated punch for DBS testing, is used to punch DBS samples for the newborn screening and the genetic screening.
The precision of DBS analysis shall be improved because it punches the samples without burrs or contamination.
Two types of tools are available to meet the volume of punching shots and workability.
Technique of Nogami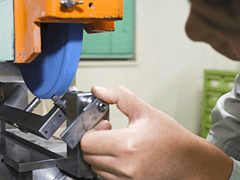 We have worked on research in ultra precision grinding technologies for more than 40 years, and their core technology, know-how, achieves a precision of 5⁄10,000 millimeter in parallelism and perpendicularity.